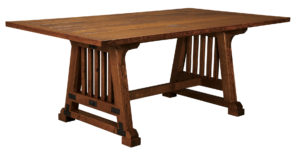 Our Thinking…
Like any family, we wanted a strong kitchen table with a solid finish which would last for several generations.
Simple… we thought.
So we went down to the store and were ready to buy a kitchen table, chairs, and possibly some bar stools if we could get it within our budget. We went to several furniture stores. We shopped, compared, and priced out complete sets of everything we wanted. There were a few which were possible, but none which stood out as the "furniture" for our family. Then we talked about the superior quality of Amish furniture. That was it! Before we knew it we were on our way to the Amish store in town with a checkbook in hand. As we walked up to the door  we noticed the sign on the door that read, "CLOSED FOR THE SEASON". Needless to say, we were bummed.  That disappointment though, pushed me harder to find another Amish Store around the area. There weren't any stores real close, but we did find some outside our local area, about thirty to forty miles away.  Some stores had limited hours, no phones, and lacked the ability to email photos, prices or basic information, which a consumer would want to review before making a purchase.
We made several trips to the Amish farm, trying to figure out information. This went on for over two months. It was hard trying to figure things out without a way of communication when we are used to with technology at our fingertips. The process became frustrating and extremely time consuming. The Amish farmer was very helpful when we were at his store, and he tried to get us the information the best he could. We ordered the furniture which was going to take another 6-8 weeks to get, which was fine because we were getting what we wanted and it was close to our budget.
In order to find out if our furniture had arrived, we drove down to the Amish farm after we had waited for the eight weeks. IT WAS NOT IN. Again, we left frustrated with three hours taken out of our day. We later received notification in the mail that our furniture was at the farm. So now we had to go pick up the furniture at the farm, carry it into the house and set it up on our own. Hmm, never done this before! So we gathered up our blankets in the house, to protect the furniture from scratches, borrowed a vehicle and went to the farm.  We loaded it up ourselves and brought it home. Did I mention, the Amish store did not deliver.
The Result of our Experience
Our learning experience lead us to think of a way to provide the same Amish furniture, with GREAT service and communication the way you want it, in addition delivery to your home.
Amish Fine Furnishing is Located in Cedar Falls, Iowa
So back to the SIMPLE part… It can be and will be with Amish Fine Furnishings located in Cedar Falls, Iowa.
We are family owned by the Hulstein family and operated with a vision to provide you the best furniture at a fantastic price. Our store is in your living room, kitchen or TV room, allowing us to provide you with a true idea of what your furniture can and will be. We have hundreds of examples of different styles of furniture for you to choose from: kitchen tables, barstools, pie safes, television stands, curios, bedroom sets, etc. – just to name a few. This is selected from the wood and stain of your choosing to match and coordinate the furniture you already have in your home.  We would love to assist you in this process!  We are located in Cedar Falls, Iowa and can travel to your home.  Give us a call, we will work around your schedule, ideas and get you the furniture you want.  As an FYI, we serve the surrounding states as well.
Contact Us AT Amish Fine Furnishings
Rick and Lory Hulstein
Cedar Falls, Iowa  50613
email: rick@amishfinefurnishings.com
cell phone: 319-230-2206
business and fax: 319-277-1217